EAT / STAY / DO in San Francisco
Big cities aren't normally big honeymoon destinations. Then again, surfing and vineyards aren't activities you can squeeze in before dinner in most big cities. If you're the kind of urban vacationer who gets restless after more than two days of sunbathing, San Francisco offers world-class culture, shopping and food, but also easy access to beaches, the wine country, and other escapes from the city heat.
What to Do IN San Francisco:
Golden Gate Park
On sunny days, this massive 1000 acre park in the heart of the city is an ideal spot for a stroll and a great place to relax. Inside, you'll find plenty of diversions including the De Young fine arts Museum, the California Academy of Sciences, a flower conservatory and a serene Japanese tea garden.
Alcatraz Island
Yes, it's a tourist magnet, but for good reason. A guided tour of this storied old federal prison can be genuinely chilling, and the island itself affords unparalleled views of the bay. While you wait for the ferry, skip the overcrowded Fisherman's Wharf and instead peruse the Ferry Building Market Place for gourmet foods and crafts.
Golden Gate Bridge and Sausalito
Just across the bay, Sausalito is a picturesque little town close enough to access by quick drive or easy day trip by bike. On the way, you'll cross the iconic Golden Gate Bridge, the end of which affords mind blowing views of the city.
Lombard Street to Telegraph Hill
Famous as being San Francisco's most crooked street, follow Lombard's winding switchbacks east and onwards through the sloping Russian Hill and North Beach neighbourhoods until Telegraph Hill. It's a steep climb to Coit Tower, but one that is rewarded by the view from atop the city.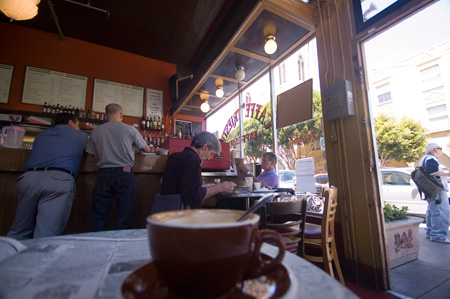 Pit Stop:
Caffe Trieste (North Beach/Little Italy)
San Francisco's first espresso bar, and still a prime people watching spot. A short walk from City Lights, one of the world's great bookstores and the original epicentre of beatnik-dom. www.caffetrieste.com
Events:
Giants Game
Indulge your husband for an afternoon by taking in a Giants game at AT&T Park, one of the best parks in baseball. Located on the Embarcadero, the park is easily accessible by Muni transit, and borders on San Francisco's industrial-chic SOMA neighbourhood, which is sprinkled with modern art galleries and shops.
Bay to Breakers
If your honeymoon happens to overlap with the third Sunday in May and you don't mind a little public nudity, consider taking part in Bay to Breakers. The annual road race / giant party / spectacle brings the whole city out in costume (or lack thereof) for a day of revelry.
Where to Shop:
Hayes Valley / Lower Haight
A low-key pocket of cool just north of Market Street and the Civic Center, Hayes Valley offers a concentration of hip clothing and design boutiques, and great restaurants. If you're feeling adventurous, follow Haight Street west to the Lower Haight, where you'll find a good collection of boutiques and independent shops before the street explodes into full-blown madness at the intersection of Haight and Ashbury.
The Mission
A mix of punks, latino gangsters, boutique shopping and envelope-pushing art exhibitions, The Mission is one of the weirdest – and certainly one of the best – neighbourhoods in the city. The calm Mission Dolores Park lurks just behind the main street if you're in need of a place to kick back and relax.
Union Square
If it's Neiman Marcus and Louis Vuitton are what you're looking for, you need not venture past Union Square, a centrally located shopping mecca stacked with high-end boutiques and large brand names.
Where to Eat:
Firefly (Noe Valley)
Upscale Americana comfort food served with offbeat artsy panache. Even though it's tucked out of the way in a quiet stretch of Noe Valley, reservations are recommended. www.fireflyrestaurant.com
Slanted Door (Embarcadero)
One of the best Asian restaurants in the country, the Slated Door occupies a sleek modernist space in the Ferry Market Building. The renowned quality means reservations are hard to come by – book at least three weeks in advance. www.slanteddoor.com
Betelnut (Marina)
If a reservation at the Slanted Door proves elusive, Betelnut in the popular Marina district is a delicious consolation prize. www.betelnutrestaurant.com
Zazie (Cole Valley)
A tiny little bistro just a quick detour from the Haight, Zazie is one of the most popular brunch destinations in the city. Call ahead for reservations, especially if you can get a table on the enclosed backyard patio. www.zaziesf.com
SPQR (Pacific Heights)
Modern Italian, tapas style. Excellent and simple food, but a no reservations policy means you'll be lining up for tables. www.spqrsf.com
Blue Bottle Coffee Company (Hayes Valley)
Located in a garage down an alley, this coffee-culture favorite may be tough to find, but is well worth it if you're a discriminating coffee drinker. www.bluebottlecoffee.net
What to Do AROUND San Francisco:
Road Trip: San Francisco to Carmel
Rent a convertible and leave a full day to meander down the coast, stopping at public beaches and small towns along the way. The town of Carmel is a gorgeous beachside stop, and you can easily spend the better part of a day at the Monterey Bay Aquarium. If you're looking for somewhere off the beaten path to rest your head, try the Pleasure Point Inn in Santa Cruz. The small bed and breakfast feels like home, and its rooftop hot tub overlooks a popular local surf spot.
The 17 Mile Drive
The winding stretch of road between Monterey and Carmel is world-famous for good reason. Pay the park fee and enjoy a leisurely drive through some of California's most stunning oceanside scenery.
Bonny Doon Vineyard
Sure, the Napa Valley is nearby, but if you're looking for a unique California wine experience, Bonny Doon Vineyard is a short drive up into the cool hills of Santa Cruz. The counterculture winery is run by a mad philosopher with emphasis on design and experimentation.
Where to Stay:
High:
St. Regis Hotel, San Francisco
$400/night and up
5 star
Medium:
Le Meridien San Francisco
$277/night
4 stars
Low:
Harbor Court Hotel – a Kimpton Hotel
$140/night
3.5 stars
Ask about their green package for hotel discounts, and credit towards bike rentals.