#60Days in Tobago? Yes Please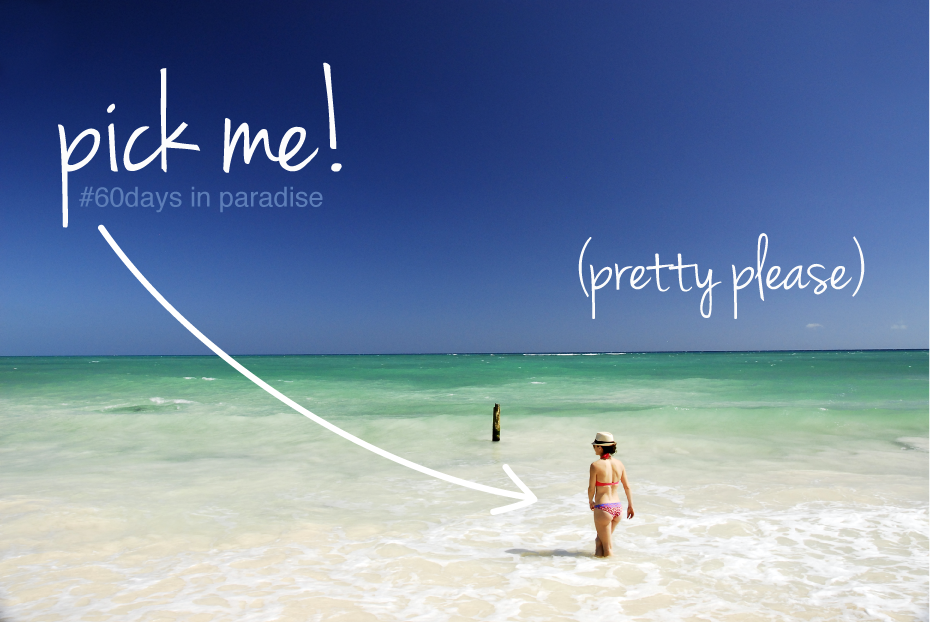 Yes! I've decided to apply to be Tobago's Island Connoisseur.
It would be my honour to explore the island's most beautiful beaches, discover adventures on land and sea, dine with the locals and share it with the rest of Canada. Here's my 30 second video application – but read on for why I would be Tobago's BEST Island Connoisseur.
[I'm getting loads of questions about where and how I captured my footage. See the most FAQs at the bottom of this post 🙂 ]
Why Should I be Tobago's Island Connoisseur?
1. This Job was Made for Me!
I will try any sport, anywhere, any time.
I play ice hockey, field hockey, ringette, soccer, do yoga, and any other sport you challenge me to! I've surfed from Portugal to Maui, and recently decided to take up kite surfing in Tulum. I can paddle board, snorkel, dive, hike, bike and more.
I love to eat, drink, and celebrate.
Here's a shot of me trying various local delicacies in Holland.
I love to take pictures (and video as you can see above!)
2. I Live and Breathe Travel (for WORK & PLEASURE)
I can't wait to experience Tobago and share it with my network of luxury travelers, honeymooners and destination brides! I love discovering off the beaten path experiences, new ways to experience popular destinations and the best way to spend hard earned vacation days.
I'm an entrepreneur at heart. In addition to running a classifieds website serving over 60,000 brides every month, I am also involved in two travel magazines, and run a visual marketing agency for tourism boards, resorts and tour providers. And if I wasn't busy enough, last year my husband and I married our love for travel and writing to publish the first Rose + Gully Travel Guide & Itinerary available for Kindle, iBooks and more (all puns fully intended).
Most of my friends see my Facebook feed full of travel photos and think "does that girl ever work?". But the truth is, I work longer days on the road than I've ever spent at a desk. I am truly lucky that my work is also my passion! If you want to know more about what I do, read on.
I write Travel Guides!

I am the Co-Author and CEO of Rose + Gully Travel Guides. Our first 9-day itinerary for Maui was published in 2013. My amazing husband, Geoff, and I explore destinations for all the best places to eat, sleep and play in order to create the ultimate holiday with just the right amount of rest and relaxation combined with off the beaten path adventure.
We started off providing custom honeymoon guides for our friends who always seemed to run out of time to plan their honeymoon while focusing on the details of their big day. They were a total hit and began to be passed around to friends, family and even strangers.
We've now taken it to the next level and created a new kind of travel guide narrowing down the best information traditionally found in 300 page guide books with the insider advice normally reserved for locals or seasoned travel agents to produce the perfect itinerary. You can buy our guide and have your entire trip booked and planned in a matter of minutes. Spend less time planning and more time relaxing!
The guides are very popular with my network of brides who visit SmartBrideBoutique.com as they embark on planning their own honeymoon. I hope we can write the next guide on Tobago!
I help 60,000 brides every month!
Six years ago I started a wedding classifieds website called SmartBrideBoutique.com where brides buy, sell and save on their weddings. Each month we help over 60,000 brides from across North America to create their dream wedding on a realistic budget without sacrificing designer style. Our blog helps readers to plan their entire wedding and honeymoon.
One of my favourite topics is of course planning honeymoons in exotic locations. You can read a few of my previous honeymoon related posts based on my own travels to the French Riviera and Vietnam.
I am the Associate Editor of Caribbean Bride Magazine!

Our magazine and website are dedicated to helping brides from around the world plan their destination weddings throughout the Caribbean. We help brides to learn more about each island from culture and marriage requirements to venues and excursions so they can choose the destination that suits their style.
You can read two of my recent articles: EAT / STAY / DO in St. Maarten and Destination Wedding Fashion Inspiration
I help travel companies to build awareness!

And because I just couldn't get enough of travel, I started up a travel marketing agency. At Digital Coconut we help travel and tourism related clients to create, promote and distribute visual content. We produce enticing and aspirational photos, videos, graphics, websites, infographics and more to inspire travelers and ultimately drive bookings for our clients.
You've probably heard of content marketing. Now, it's gone visual – specifically focused on sites including Pinterest, Instagram, Facebook, Fancy, Wanelo (& more!) plus travel review sites like TripAdvisor.
My role at Digital Coconut focuses on content strategy, production, distribution and promotion through social media and more, reporting and optimization.
Ok, ok. I know – I'm getting super nerdy. Basically, It's my job to turn spectacular visuals into $$$. You can read more about how we help our clients to use social media and inspiring content to grow their business on the Digital Coconut Blog.
I am the Editor of Eden Life Luxury Travel Magazine!
At Digital Coconut, we also create custom publications for our clients. This year we launched a new magazine for Eden Hotels and Resorts that will be found all over the world in their hotel properties, affiliate companies and private jets. I was thrilled to be a part of creating our inaugural issue and can't wait to begin planning stories and features for Issue 2.
Eden Life magazine is a celebration of luxury travel.  Stunning images and thoughtful stories transport the reader to incredible destinations all over the world. Eden Life allows our audience to explore far away locales, discover new experiences and dive deeper into familiar locations while they curate a list of their must see places. We curate our editorial to capture irresistible moments in time and truly inspire the reader's next adventure.
3. I've Already Started Planning!
I've been pinning to my #60days in Tobago Pinterest Board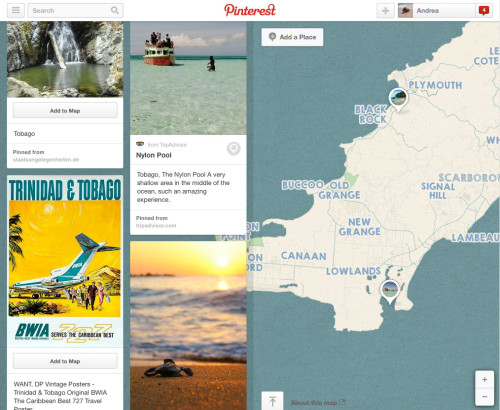 Check out my Tobago ToDo List on Foursquare:
Where to find me:
You can also find me on Pinterest, Twitter, Instagram and of course, LinkedIn. And all over the news – check out the press section of my website for links to my features in the Financial Post, Globe and Mail, 24 Hours, Huffington Post, Extraordinary Women TV, Business News Network and on many morning television shows across North America.
My Video:
Apart from the very icy looking footage at the very beginning of the video, all the footage was taken on a recent trip to Tulum, Mexico.
I used a GoPro Hero3+ Black edition which comes with the underwater housing. And… we bought a lot of accessories like the head strap, floaty back door and GoPole Bobber for snorkeling, Jaws Flex Clamp on bike handlebars and cars, and a GorillaPod. The batteries die pretty quick, so it's always good to carry an extra as well as a wall charger. Some of what we have in our kit is laid out here. Still want to get a pole for sneaky selfies, the suction cup for surfing and a chest mount for good measure. Also note, the camera doesn't come with the micro SD cards required, so you need to pick those up too!
That was a fun little afternoon on Lake Simcoe in Ontario! I tried filming with the camera on my head, on my husband's head, and even clipped on to one of my skates while I used the other to push (which made for some amazing footage). In the end, I choose the footage with the camera clamped on to my hockey stick facing up so you could see how much fun I was having. It often takes experimentation to find the best angle and perspective.
Final Cut Pro X. Plus I edited some graphics in Photoshop and Illustrator.
I bought it here: http://www.smartsound.com/. I like it because you can pick an exact length, vibe of the sound and which instruments you want on the track.
I use a Blue Yeti. Besides being particularly awesome, I'm sort of obsessed with the branding and packaging.